Most PPOs accepted
No Medicaid or Medicare

High-Quality, Low-Cost Convenience


One-Stop for All Your Dental Needs

Affordable Dental Services for the whole family

Convenient locations near you
Schedule your free consultation
Miami's Best Deal On New Patients, Implants and Teeth Whitening
Miami Dental Group makes it easy for you to understand costs. There's never a hidden agenda or fees. Talk with us about your insurance and payment options. We accept cash and all major credit cards, and also offer third party financing.





Professional In-House Whitening

Simple Extraction
$195
D7210
Price range
$295 - $495
D7210 - D7220
12 months Treatment
$1995
Only
$1995
Full Tooth. Flat Price








622 reviews on
I am always treated with care and importance. Great pricing and quality
Excelente experiencia de Profesionalismo , buena atención y con precios justos. Así puede hacer todo mi tratamiento .
Best dental office in town, highly recommend to anyone !!!
Ambar Gutierrez
2023-02-01
Mi mayor temor es ir al odontólogo pero gracias a la dra Romano ir para sus consultas es todo un agrado y alivio. Su atención te hace sentir como en casa sin presión y eso ayuda a eliminar mis nervios. Sin Duda 100% RECOMENDADA. 100% PROFESIONAL
Muchas gracias a Arianna por tan buen servicio, muy profesional. Sin dudas volveré pronto.
Valentina Sapiain
2023-01-19
Super bueno toda la experiencia 100% recomendado
Mariel Mendoza
2023-01-12
Hermosa atención, son muy amables y profesionales para explicar cada procedimiento
Ramon Usategui
2022-12-19
This was the best experience of my life...not even at a dentist...anywhere Thank you Maritza at the Doral office for making this the best day of my life
Marcela Usategui
2022-12-19
Maritza siempre ha demostrado ser muy profesional y su trato es maravilloso..
Miami's Best Dental Deals For Every New Patient
Our office is currently offering "Our Specials" & VIP Program for patients without insurance including considerable savings on exam, cleaning, diagnostic x-rays & all dental treatments including cosmetic dentistry, teeth whitening & more.
Dental Services in Doral
As you grow older into adulthood, your dental needs evolve along with you. Even with the most vigilant, precise preventive dental care, there can still be oral health issues that need to be addressed. We provide an array of dental solutions for your smile needs.
Emergency Services
Severe toothache
Broken or chipped tooth
Tooth Extraction
Cosmetic Dentistry
Teeth Whitening
Porcelain Veneers
Smile Restoration
General Dentistry
Professional Cleaning
Dental Fillings
Dental Bonding
Restorative Dentistry
Dental Implants
Dental Crowns 
Partial and Full Dentures
Most Insurances Accepted
We work with most major PPOs insurance companies to maximize your benefits, while minimizing your out-of-pocket expenses. Even if we're not in network with your particular provider, we'll still honor their fees. For your convenience, we're happy to file your dental insurance forms. If you have any questions about your coverage, just give us a call.
No HMO, Medicaid or Medicare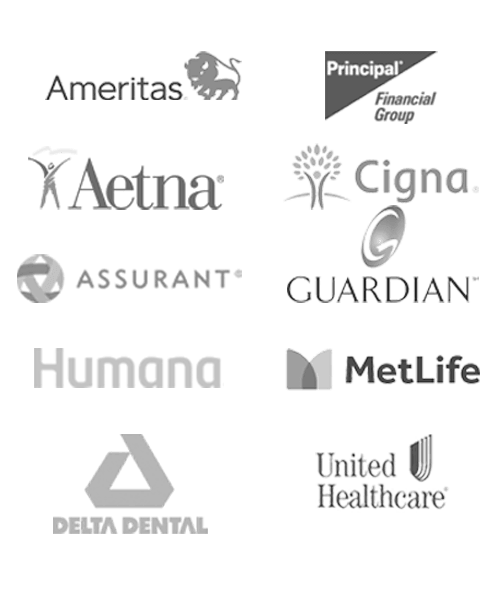 Frequently Asked Questions
I'm afraid of going to the dentist, what can I do?
Fear of the dentist is quite common for many people. We are aware of the prevalence of dental anxiety and we are properly trained to work with you in helping overcome those fears. You will find that our team members are eager to work with you to make your visit comfortable and pleasant. Maintaining the health of your smile is important to us and it is our top priority to provide the highest quality of care and customer service to all of our patients.
How often should I see the dentist?
Children, teens, and adults should all see the dentist for a regular checkup at least once every six months. Patients who are at a greater risk for oral cancer or gum disease may be required to see the dentist more than just twice a year. Your doctor will help determine how often you should visit the dentist for regular checkups.
Will I receive a quote for any recommended treatment?
Nobody likes unexpected costs sprung on them, especially when it comes to medical and dental treatment. We provide our patients with a detailed quote/estimate for all dental treatment services. We find this is especially important for more in-depth services requiring multiple appointments, such as a root canal, crowns, or veneers.
What do I do if I don't have dental insurance?
If you currently don't have dental insurance, we encourage you to still call our office to learn about your options. Our goal is to make your dental care as affordable and accessible as we can, so please don't hesitate to ask for help.
We gladly accept CareCredit, which is a popular way both our uninsured and insured patients cover their dental treatment costs.
Why do I need Dental X-rays?
When our dentists examine your teeth, they look at the tooth surfaces, gums and oral soft tissues carefully to check for early warning signs of disease.
Dental x-rays are necessary to look at areas that the dentist cannot see by visual exam alone, such as between the teeth and below the gum line.
Like other types of x-rays, dental x-rays are different views (i.e., bitewing, periapical, panoramic). The dentist will prescribe the view(s) needed to look for specific concerns, such as cavities between the teeth, tooth root abscesses, jaw bone loss or infection, tumors or cysts. Generally, x-rays are taken about once per year for preventive care, or as needed to evaluate a problem. Some patients require x-rays less frequently or more often depending on their history of past dental issues.
Our practice uses digital dental x-rays, with low radiation exposure. Compared to traditional dental film of the past, the exposure is significantly reduced.
Because your x-rays are digital, your dentist can zoom in on areas to talk with you about your oral health, and we are able to electronically send digital x-rays to the dental insurance company or dental specialists that are involved in your care.
Can teeth whitening damage teeth?
Professional teeth whitening products used under the supervision of a trained dental personal do not harm teeth or gums. Mild sensitivity does occur after the whitening process, this can be easily treated with desensitizing gels.
Can I straighten my teeth as an adult?
Teeth can be aligned and straightened with the help of various treatment options such as orthodontics, porcelain veneers and crowns. Traditional orthodontics using braces or Invisalign can be done at any age to align teeth. If orthodontic treatment is not an option, then beautifully aligned teeth can be achieved through porcelain veneers and crowns which can also alter the shape of the teeth. Sometimes one may require a combination of the two treatment modalities to achieve the desired results.
ENHANCE YOUR SMILE WITH MIAMI DENTAL GROUP
Click on the Book My Appointment button or call us to book your appointment! If you have any questions about your initial appointment, call us or fill in the form below and we'll be sure to help you as soon as possible.