FREE Dental Emergency Exam ($150 Value)

We offer Sedation to ensure comfort

Quick & Affordable Emergency Dental Care

No Insurance? We've Got You Covered.
Most PPOs accepted
No Medicaid or Medicare
Did You Experience a Dental Emergency?
Finding an affordable emergency dentist in Miami can be quite a challenge, and the last thing you want to be doing when your teeth are causing you pain, is calling up clinic after clinic, asking for prices. Our transparent fees allow you to make a decision knowing exactly how much it will cost you. You can say goodbye to your dental problems and get your smile back quicker than you might think it is possible.
A dental emergency can happen at any time and you will feel completely helpless. Our dentist will be happy to assist you with your urgent dental problems. Our emergency dentist can offer treatments for severe toothache, broken teeth, infected teeth, uncomfortable dentures, de-bonded crowns, facial swellings to name a few. Our emergency dentists are known for providing quick solutions to your dental problems.
Simple Extraction
$195
D7210
Price range
$295 - $495
D7210 - D7220
12 months Treatment
$1995
Only
$1995
Full Tooth. Flat Price








622 reviews on
I am always treated with care and importance. Great pricing and quality
Excelente experiencia de Profesionalismo , buena atención y con precios justos. Así puede hacer todo mi tratamiento .
Best dental office in town, highly recommend to anyone !!!
Ambar Gutierrez
2023-02-01
Mi mayor temor es ir al odontólogo pero gracias a la dra Romano ir para sus consultas es todo un agrado y alivio. Su atención te hace sentir como en casa sin presión y eso ayuda a eliminar mis nervios. Sin Duda 100% RECOMENDADA. 100% PROFESIONAL
Muchas gracias a Arianna por tan buen servicio, muy profesional. Sin dudas volveré pronto.
Valentina Sapiain
2023-01-19
Super bueno toda la experiencia 100% recomendado
Mariel Mendoza
2023-01-12
Hermosa atención, son muy amables y profesionales para explicar cada procedimiento
Ramon Usategui
2022-12-19
This was the best experience of my life...not even at a dentist...anywhere Thank you Maritza at the Doral office for making this the best day of my life
Marcela Usategui
2022-12-19
Maritza siempre ha demostrado ser muy profesional y su trato es maravilloso..
Call Now For A  Emergency Appointment
Gentle Care
Our team takes the fear out of going to the dentist by catering every visit to your unique needs.
Immediate Relief
We use advanced dental technology and single tooth anesthesia to provide immediate relief.
Proven Results
You'll leave your dental visit feeling supported and safe with a smile you can show off with confidence.
Anytime emergency dentist is needed for adults and children, our professional team is available to save your damaged teeth and help patients in discomfort. Your dental emergency may be a dislocated tooth, an abscessed tooth or lost tooth due to trauma of an accident or sports injury. Whatever the trauma suffered by your teeth, emergency dentistry is available with same day appointments when you or other members of your family need it.
Reasons to choose Miami Dental Group for any Dental Emergency

We provide urgent dental care relieving you of your dental pain

We have a number of appointment times to suit your schedule

We have 4 locations that can help you with you dental emergency

Our prices are transparent. You know exactly how much you will pay without fearing any unexpected surprises.
Regardless of the nature or extent of your emergency dentistry needs, the events surrounding your injury can be scary. This is why our team of Emergency Specialists is so helpful in these times of stress. Through emergency dental services we can ensure long-term wellness of the affected teeth or tissues and stabilize your oral condition.
Most Insurances Accepted
We work with most major PPOs insurance companies to maximize your benefits, while minimizing your out-of-pocket expenses. Even if we're not in network with your particular provider, we'll still honor their fees. For your convenience, we're happy to file your dental insurance forms. If you have any questions about your coverage, just give us a call.
No HMO, Medicaid or Medicare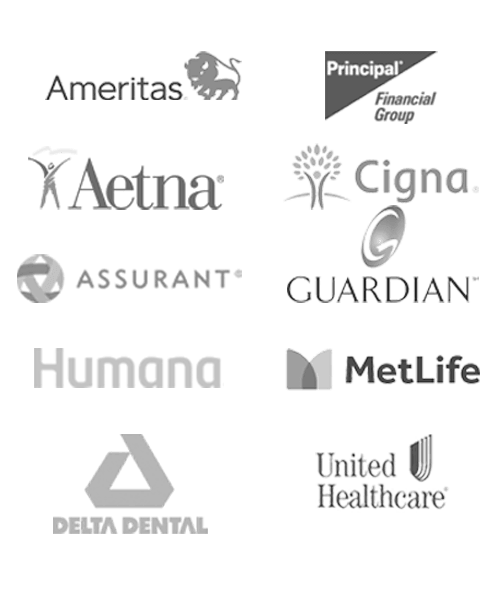 Our Emergency Dentist can help you with the following
Toothache
A toothache can be caused by a variety of ailments, and it's important that you get the correct diagnosis from an emergency dentist right away. Broken or chipped teeth that expose nerves and tissues to warm and cold sensations cause toothaches. Toothaches can also be caused by dangerous infections.
Abscessed Tooth
An abscessed tooth happens when bacteria infects the base of your tooth or invades a chipped or cracked tooth. This oral infection usually causes inflammation, pain, and swelling. In severe cases, untreated infections can spread to your brain. They can also cause sepsis, which leads to organ failure.
Avulast Tooth
An avulsed tooth is one that has been dislodged from its place usually by some traumatic event. While most avulsed teeth occur during car accidents or sports injuries, you can disturb a tooth by inadvertently biting down on something hard. Our emergency dentists can save your tooth if you act fast.
Emergency Root Canal
When draining an abscessed tooth of pus is not enough, we may have to perform a root canal procedure. During a root canal, we will remove the affected tooth's nerve and pulp. After thoroughly cleaning the inside of the tooth, we seal it to prevent bacteria from entering the area.
Tooth Extraction
We prefer to do treatments that stop decay and support a healthier mouth rather than conduct invasive procedures that subtract from your smile and quality of life. Tooth extraction is an urgent dental care treatment option of last resort at Miami Dental Grroup.
Broken or Chipped Teeth
While most broken or chipped teeth don't qualify as dental emergencies, there are exceptions. Fractured teeth that have exposed nerves are very painful and should be treated by your emergency dentist as soon as possible.
Dr. Fraga and his team are the absolute best. They level of care, consideration and compassion they show you is like nothing I have encountered. He not only fixed a bad tooth with a COMPLETELY PAINLESS ROOT CANAL, but he straightened my teeth, and fixed other problematic teeth as well. I continue to be amazed by the lengths Dr. Fraga goes to for his patients. Thank you guys for everything.
Dr Mion is a true gem. I went in for emergency wisdom tooth removal , first wisdom tooth being removed ever and Dr Mion and his assistants were very warm and welcoming . They assured me I will be fine as I worked through my anxiety . They were also extremely helpful and flexible when it comes to payment plans if you don't have insurance like myself . The procedure took less than 20 min! I think I have definitely found my primary Dentist
Dr Llanes is amazing!! As well as the rest of the other staff members, each time you come there they make me feel so welcome, greet you by your name and make sure I'm comfortable! If your wanting a good dentist that does an amazing job and and shows that he genuinely cares about your teeth and a plan to fix what you came in for, go to him!!!
My visit with Dr. Romero was a wonderful experience. He is very polite, gentle and has caring staff members. I had the best cleaning I ever have had in my life. Pain free. I would recommend this office to all my friends. Dr. Romero Fixed a cavity on my tooth the whole procedure was pain free and I really like that. Compared to other experiences that I've had, they are the best.
I went to visit Dr. Mion for a free braces evaluation. I have to say that I am very pleased with my visit. In my case, it seems to be that I am a little old for braces and my teeth need more from another kind of treatment to assure endurance after a previous dentist. They were very kind and never tried to push for other service. Nice team. Dr Mion is very flexible.
My visit with Dr. Llanes was a wonderful experience very polite, gentle and caring staff. I had the best cleaning I ever had in my life pain free. I would recommend this office to all my friends. Dr. Llanes fixed a cavity on my tooth. The whole procedure was pain free and I really like that compare to other experience that I've had. They are the best.
CONTACT MIAMI DENTAL GROUP FOR YOUR DENTAL EMERGENCY
Experiencing a dental emergency? Looking for an emergency dentist in Miami? Toothache, broken tooth, swelling of the jaw? For any questions regarding your dental needs, please call to speak with one of our Smile Experts.
We look forward to welcoming you to our dental family.