Dental Implant
Only $1995

FREE Dental Implant Consultation


Feels just like your natural teeth

Permanent solution to missing teeth
Most PPOs accepted
No Medicaid or Medicare
Free Implant Consultation
Top Dental implants in Miami
Dental implants offer a permanent solution to missing teeth. In addition to being an innovative treatment, implants offer an alternative to a denture or dental bridge. Moreover, with a dental implant, you can eat, laugh, and smile with confidence again.
A small titanium screw is placed in the jaw where it fuses with the bone. Consequently, this provides a strong anchor for a dental crown. The result is a tooth that looks and feels just like your natural teeth.
Our Technology and Experience
USA-made titanium implants
No unattractive metal crowns
3D imaging for precise placement
CT scanner on-site for convenience
We Work With You
Financing and payment plans available
We accept many insurance plans
We'll make sure you are completely satisfied with the look and feel of your implants
We'll Help Restore Your Smile and Confidence
Single and multiple implant options available
We offer a variety of sedation options to ensure complete comfort
No need to remove your implants like traditional dentures
Implants are color matched to your natural teeth
An alternative to dental bridges and dentures
Until recently, the most common solution to a missing tooth was a dental bridge or a partial denture. Despite these being highly effective treatments for aesthetic concerns, they don't encourage the correct function of the tooth. Besides, a dental implant is placed in the jaw and acts as an artificial tooth root. The force of your bite is then distributed across the jaw instead of the adjoining teeth. This means you can eat all of your favourite foods with confidence again.
Every Dental Implant that we make in our Dental Office is with the objective that it lasts to each patient a whole life taking the necessary measures on the part of the patient so that the process of treatment and recovery is successful. Dental Implants are not supposed to move from their position or decay over time, the only thing that can threaten the duration of each implant is Advanced Gum Disease that is mostly generated when proper dental hygiene is not maintained.
Benefits of Dental Implants
Get A Long-Term Solution
When properly cared for, dental implants can last a lifetime, making them one of the best investments for long-term tooth replacement. The long-term success rate of implants is over 95%.
Eat and Talk with Comfort
Dental implants look, feel and function like real teeth. You'll be able to eat your favorite foods, talk with comfort, and smile with confidence again.
No Daily Removal
With dental implants, there's no need to remove them to reapply adhesives or for nightly cleaning. You can wake up and go about your day without worrying about your teeth.
Are Dental Implants Right For You?

If you have one or more missing teeth that keep you from enjoying the simple pleasures of smiling, laughing, talking, eating.

If you have dentures that move around and make it hard to chew and smile.

If you need a permanent solution to replacing your missing teeth.
Most Insurances Accepted
We work with most major PPOs insurance companies to maximize your benefits, while minimizing your out-of-pocket expenses. Even if we're not in network with your particular provider, we'll still honor their fees. For your convenience, we're happy to file your dental insurance forms. If you have any questions about your coverage, just give us a call.
No HMO, Medicaid or Medicare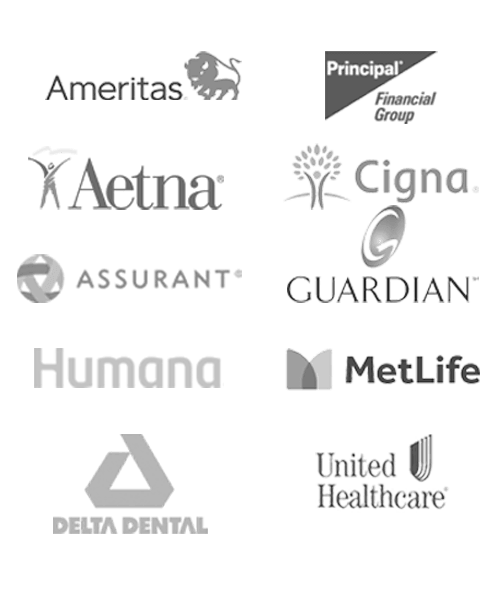 I got an implant years ago from a different dentist. I am currently driving from Plantation to Miami Dental Care in Doral to get an implant. I am half done with the process. Dr. Mion is a really nice guy. He is very careful with his implant technique. He makes sure he does not drill into the sinus cavity. He makes sure the implant has plenty of time to heal into the jawbone. The implant was placed well. I am confident he will do a good job with the implant crown.
After consulting with three dentists, I decided an implant rather than a bridge was the way to go. Now my task was to find an implant specialist. By luck, I came across Dr. Mion. He immediately put me at ease by taking the time to make sure that I understood the process and answered all of my questions. The office is GORGEOUS ! What more can one ask for? Brilliant dentist, caring staff, relaxing environment… The follow up appointments have been wonderful as well.
One year after my implant I'm pleased to report all is well. Dr. Llanes lived up to expectations with a well strategized plan of action based on Hi-tech objective analysis along with his vast experience. His compassionate easy-going manner gave me confidence of a successful outcome.
The entire office staff is very professional, friendly and attentive to all my needs and concerns, which is very reassuring. I've decided to continue on with aftercare. This is a top notch dental practice, period!
VISIT ONE OF OUR  CONVENIENT LOCATIONS
7755 SW 87 Avenue. Suite 120
Miami, FL 33173
7950 NW 53rd Street Suite 201
Doral, FL 33166
THINKING ABOUT DENTAL IMPLANTS?
If you're ready to start your journey to dental wellness with Miami Dental Group, book your appointment today!